Finest British Barbering for the New York Gentleman
With our new stores opening in Kings Cross and Paddington in the past year, we've also had our eyes set on New York City, where after months of hard work we're delighted to announce that Pall Mall Barbers New York is now open! If you're ever in New York for business or pleasure and in need of the service you know you can count on from Pall Mall Barbers New York, swing on by! We're so excited to start our international journey and show the City of New York a slice of great British barbering.
Find Pall Mall Barbers Midtown
Pall Mall Barbers Midtown Address: 10 Rockefeller Plaza Lower Concourse, New York, NY 10020, United States
Please see a map of the concourse below.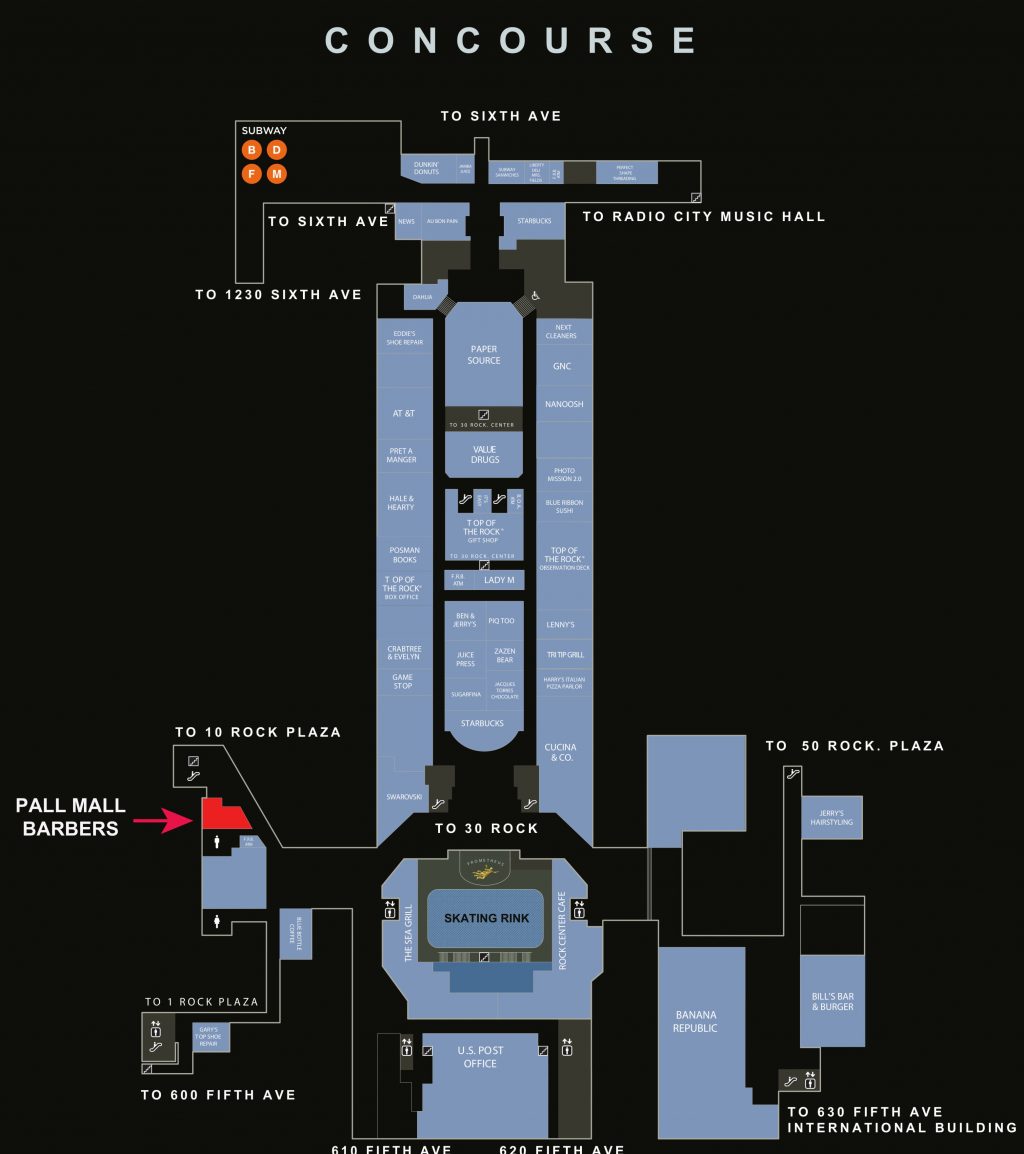 Contact us on +1 (212) 586 2220.
www.pallmallbarbers.nyc

Taking London to New York
We've recreated the Pall Mall Barbers experience down to the smallest detail, our timeless décor masterfully crafted and replicated by local tradesmen, from the oak panelled walls to the traditional fittings and white tiles, we've brought the exceptional British barbershop experience to life. And we've got our sights set on winning even more awards and for our service, product and store – in fact, we're so confident we've already built in a trophy case.
Just like here in London, we have scoured New York City for the finest barbers on offer and will be bringing their experience and talents with the training and service that we provide in all of our New York barber shops.
We'll have our full service offering that you expect from us at Pall Mall Barbers New York, from beard trims to our luxury wet shave, haircuts and styling to skin fades, with our standard consultation process a key part of the service.
We will also be stocking our in-house grooming and styling products, developed by expert barbers to provide you with a barbershop level experience at home. Our 3-Step-Shaving-System allows you to create a shaving ritual that will give you the closest shaves you've ever had. Our very own Shampoos and Conditioners will treat any hair issues and our range of hair styling products will help you create any style you like, all designed to work for different hair types.
How To Book An Appointment
Book online here and follow the quick and easy booking process.
Book via the Pall Mall Barbers App available on the App Store and Google Play.
Call the store directly on +1 (212) 586 2220.
We look forward to welcoming you to our New York barbershop very soon!