Finest British Barbering for the New York Gentleman
The British barbering institution has opened its doors in New York City. Their first international Barbershop, Pall Mall Barbers is an award-winning British barbering brand, serving gentlemen for over 122 years in the iconic Pall Mall and Trafalgar Square area of London.
The new barbershop is located at the heart of Manhattan, in the thriving 10 Rockefeller Plaza Lower Concourse, New York, NY 10020, United States. The shop-fit is in the traditional barbershop style, a nod to the heritage and history of these beloved barbers, with oak-panelled walls, regency style tiling, classic fittings, and the finest barbers' chairs.


Staffed with New York's finest barbers, hand-picked from across the city, Pall Mall Barbers calling card of traditional service in a modern manner and in-house product offering provides everything a gentleman needs to help make his first impression count.
Bringing British sensibility and barbering know-how to the gentlemen of New York City has long been a dream for Richard Marshall, Owner and Managing Director of Pall Mall Barbers. Expanding his business from one to six barbershops in central London since acquiring the business, Richard set his sights on international expansion. When the opportunity to open a New York barbershop presented itself, he leapt at the chance.
Services
Pall Mall Barbers delivered over 64,000 award-winning haircuts last year, performed by dedicated barbers who tailor advice on all aspects of grooming to each customer in their chair.
Hair-styling services include our tailored haircut service ($45), which lasts around 30 minutes.
Every haircut at Pall Mall Barbers New York starts with an in-depth consultation to understand your individual style and requirements. This enables our barbers to recommend the right cut to suit you. Once the cut has been decided, your hair and scalp will be washed and cleaned using our bespoke Pall Mall Barbers Shampoo. After your haircut, the barber will style your hair using Pall Mall Barbers Hair Styling Product and give you tips so that you can achieve the same look at home.


Re-Style, Clippers Back & Sides, Just Clippers, Skin Fades, and Head Shaves are also available.
Grooming and shaving services include our signature Luxury Wet Shave service ($67), an indulgent experience that takes 45 minutes.
As with our haircuts, our wet shaves start with an in-depth consultation, focusing on your shaving regimen, examining your facial hair to determine the direction of hair growth and identify any ingrowing hairs, analyzing the stubble density, and understanding your skin sensitivity. Your luxury shave will include a pre-shave skin preparation, two layers of our bespoke shaving cream applied with a badger hair brush, the shave, completed with a straight-edge razor, and then post-shave skincare to leave your skin feeling fresh.
We also offer Express Shaves, Full Beard Styling and shaves, and Friction as part of our extensive service offering.
Products
Pall Mall Barbers have developed a range of award-winning grooming and styling products, utilizing the combined centuries of experience and know-how of their barbers to refine and create the ultimate male grooming product line. Designed for the demanding standards needed in barbershops and suitable for home use, the Pall Mall Barbers grooming and styling collection fulfils all the needs of the modern gentleman.


The signature product collection is the 3-Step Shave System, which is utilized in our in-store Luxury Wet Shave service and scented with our much-loved Sandalwood & Clove fragrance. Combining a Pre-Shave Scrub, Shave Cream, and Post-Shave Balm, the 3-step Shave System is the basic foundation of any shaving regime. The Pall Mall Barbers shaving range also contains Shave Oil, Cooling Gel, and Beard Oil.
Our Style & Treat range includes Argan Oil Shampoo & Conditioner, Tea Tree Shampoo & Conditioner, and a variety of styling products for every hair type and need.
About Pall Mall Barbers
Pall Mall Barbers has a long-established history of providing hairdressing and grooming to gentlemen, dating back over 120 years. Founded in 1896 as the Pall Mall Toilet Saloon at No. 27 Whitcomb Street, just off London's iconic Trafalgar Square. A standout of St James' and Pall Mall, the Pall Mall Toilet Saloon was founded by a traditionally trained barber, a Mr. C Rose, who provided haircuts and hot towel shaves as well as all the typical barbering services to the distinguished gentlemen and dandies who frequented the local area.
Acquired by Richard Marshall in 2005 and rebranded as Pall Mall Barbers, the standalone store quickly became a chain across central London under his ownership. Our stores are located in the well-known business centers of Trafalgar Square, Bishopsgate, Fitzrovia, King's Cross, Westminster, and Paddington.


Find Pall Mall Barbers Midtown
Pall Mall Barbers Midtown Address: 10 Rockefeller Plaza Lower Concourse, New York, NY 10020, United States
Please see a map of the concourse below.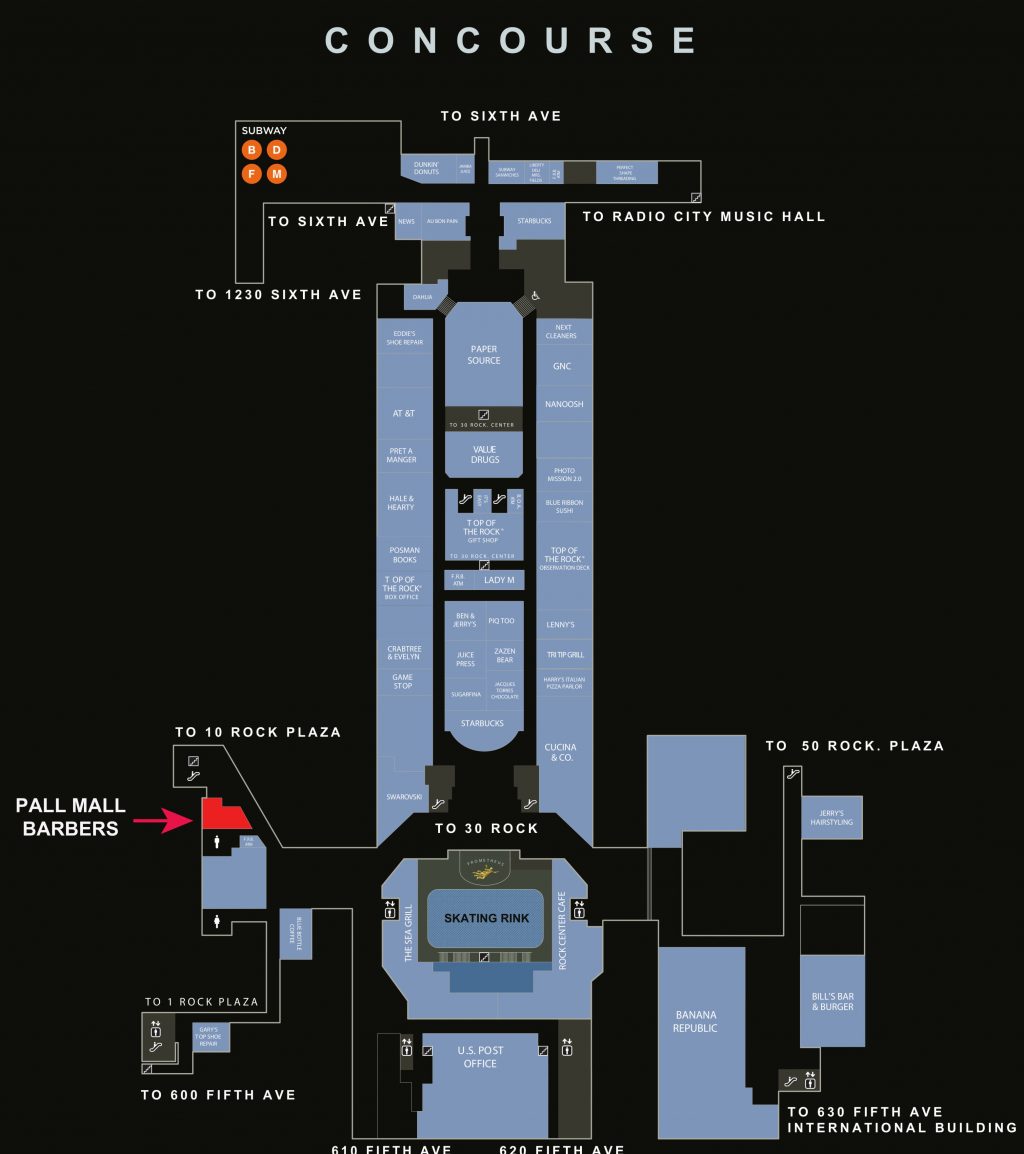 Contact us at +1 (212) 586 2220.
Connect with us on Instagram @pallmallbarbers_nyc
Please contact Richard Marshall at md@pallmallbarbers.com for further comment, interview requests or to arrange visits and treatments.
How to book an appointment
Book online here and follow the quick and easy booking process.
Call the store directly on +1 (212) 586 2220.
WhatsApp: +1 (646) 877 2602
Walk in.