We are extremely excited to announce that we have opened our first barbershop outside of London in New York City 10 Rockefeller Plaza Lower Concourse, New York, NY 10020, United States .
Pall Mall Barbers Midtown, New York
10 Rockefeller Plaza, Lower Concourse, New York City, NY 10020, United States
Contact Us
Call:  +1 212 586 2220
New York City Barbershop in Manhattan
A few feet away from the site of NBC's Today Show and on the same block as many of the world's top brands, the 812sq ft 12-seater barbershop will place Pall Mall Barbers in the heart of Manhattan, bringing a slice of London to New York City.
Richard Marshall, founder of Pall Mall Barbers, says:
"Opening a barbershop in New York will be a dream come true. I fell in love with New York when I first watched Trading Places, and the first time I came to the city I knew that I wanted to be able to open a barbershop here. I'm really excited to be opening in such an iconic, art-deco building, which is such an important landmark in New York. There is beautiful symmetry to our New York store being right in the heart of the city, as our original Trafalgar Square barbershop is also located next to an important landmark, right at the heart of London – where our stores are in locations inspired by the Monopoly board. Finding a store available in this incredible location was like serendipity, it makes perfect sense for the beginning of our international expansion."
Check out our New York Barbers here – pallmallbarbers.nyc
Our New York City barbershop in Manhattan is due to open this summer. Stay tuned for more news soon!
How to apply for barbers jobs in NYC
Initially, please get in touch by email with a section about yourself and your barbering experience, as well as some photos of your work if you have some – send emails to hiring@pallmallbarbers.com for our barbers jobs in NYC and London. We will do our best to get back to as many people as possible. More information can be found here.
---
About Pall Mall Barbers New York
Near to 5th Avenue based at the Rockefeller Center our new midtown barbershop will have 12 barber chairs, with the very best barbers in New York. We'll be handpicking the very best barbers New York has to offer, and they'll provide the same amazing service standard that we have delivered to gentleman in London for the last 120 years.
Our barbers are known in the industry as some of the best barbers in the barbering business – we have trained barbers from all over the world, some of our barbers have been featured on TV, Media across the press, and we've won lots of awards for our service and skills as barbers, most recently Best Male Grooming Salon at the Salon Business Awards. We're determined to keep up that momentum and deliver the high-quality barbering service that our clients deserve and demand. On top of that, we've have our own hair styling products and men's grooming range for barbers to use in store and you to use at home, so you can recreate your style with ease following the advice of our highly skilled team of barbers in New York City.
Find Pall Mall Barbers Midtown
Pall Mall Barbers Midtown Address: 10 Rockefeller Plaza Lower Concourse, New York, NY 10020, United States
Please see a map of the concourse below.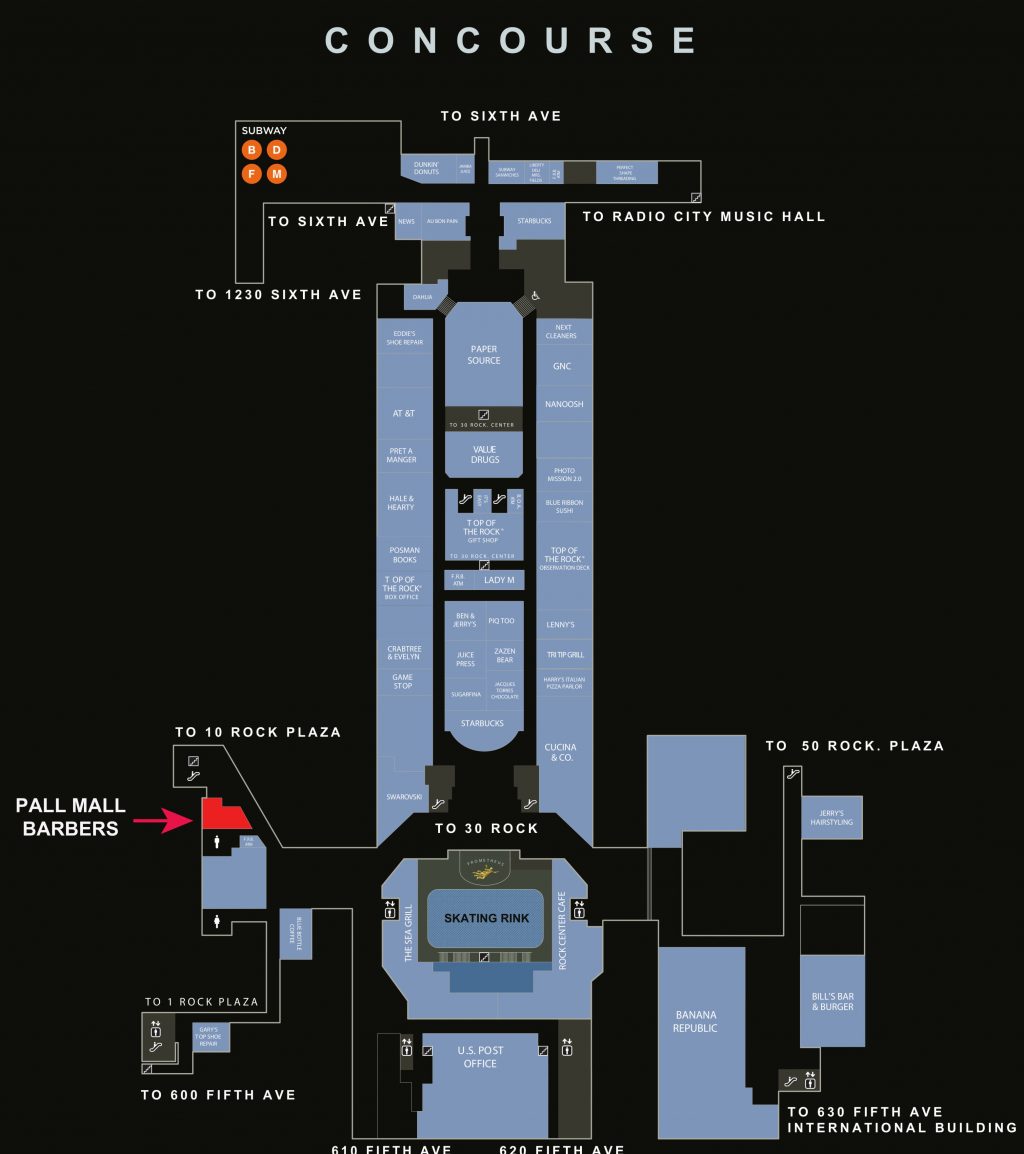 Click below to claim your $7 off voucher. Offer valid for new customers only

---
New York barbershop, best barbers New York, best barbers in NYC, best barbershop in New York, best barber NYC, best barber shop NYC, best barber in NYC, barbers Midtown, Midtown barbers, NYC barbershop, barbershops in New York, NYC barber.