The new barber shop NYC, known as "Pall Mall Barbers NYC" is a new and popular location in Midtown for men's cuts. The shop has classic fittings with oak panelling and regency tiling to give patrons an old-fashioned feel, regency style tiling, classic fittings, and the finest barbers' chairs!
"This isn't your average barber shop NYC, this is Pall Mall Barbers NYC. They have New York's best barbers hand-picked from across the city and in house product offering for gentlemen to help make their first impressions count."
If you're in New York, searching for the 'best barber shop NYC" you can relax – we've got you. Hailing from Britain, we're bringing almost 125 years of barbering experience to the big apple. Our name is Pall Mall Barbers, Open Barber Shop, and we're the place to go if you want to put your head in safe, talented hands.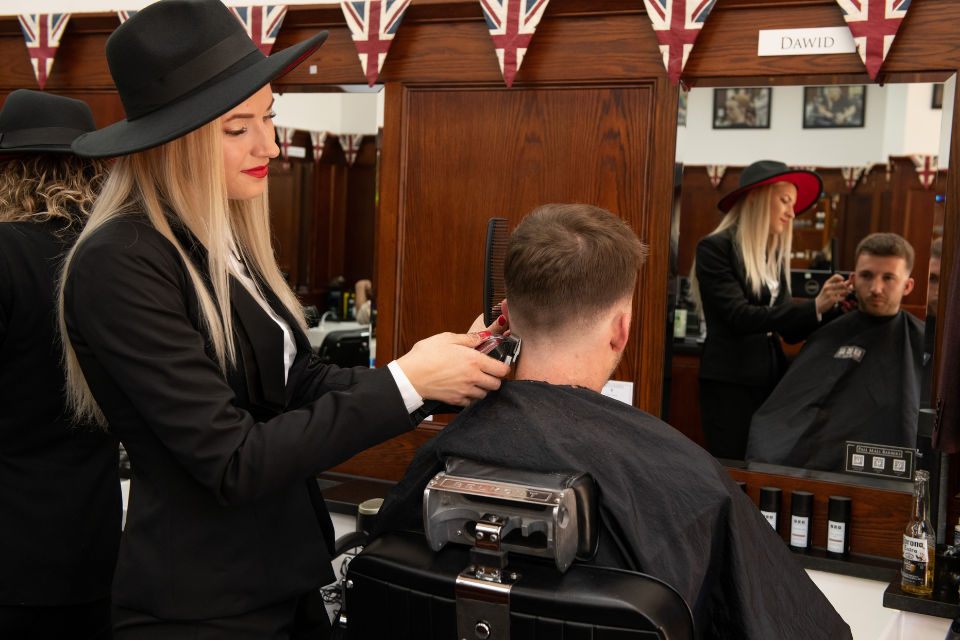 Where is the Best Barber Shop in NYC?
Pall Mall Barbers NYC is a welcoming environment where you can escape from the world and be pampered. Whether it's traditional wet shaving or doing something new with your hair, our team will leave both looking good when we're finished!
The scent of premium products wafts through every inch of this place so that by the time we're done making sure everyone feels relaxed from head to toe–whether they came in here stressed out because life just got too hard outside, wanted some advice about how best cut their beard/moustache down into shape.

So, if you find yourself asking 'Where is the best barber shop NYC?', you should know that Pall Mall Barbers NYC is absolutely worth the trip. Located in the Rockefeller Center, we're a comb's throw away from wherever you might be in NYC.
Who are Pall Mall Barbers? We've been around since 1896. That's not a typo. After generations of finetuning the way we go about our business, we've settled on a formula that works perfectly. It's one that all the gentlemen who frequent our shops love. We're super proud to be the best answer to the question.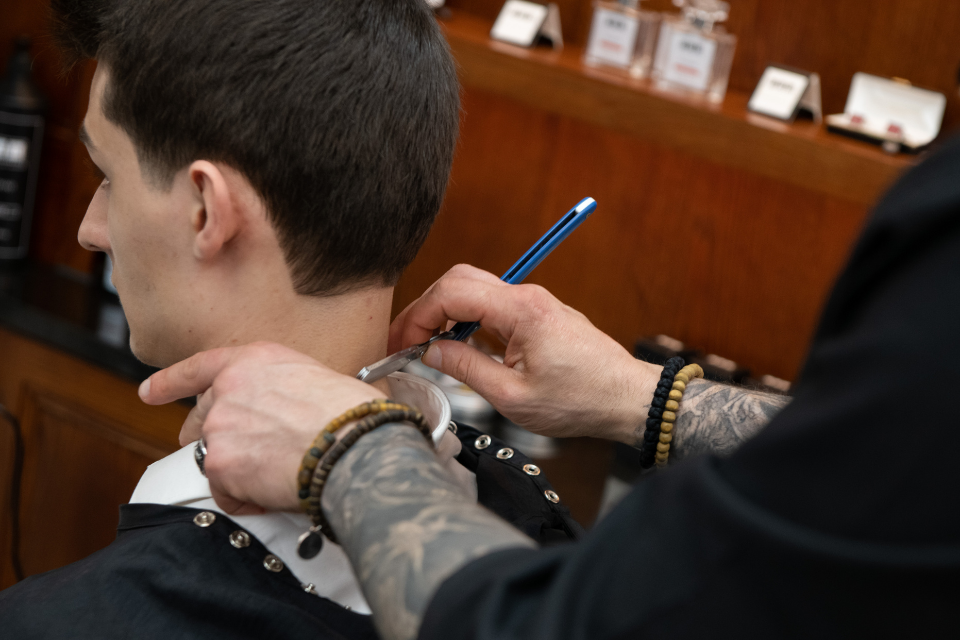 It's hard to find a good barber shop in NYC. There are tons of them, all over the city and they're not always equal. Some places just charge too much or treat their customers like chumps (no offence). But when you come here…I mean really: You didn't choose us; we chose YOU! Men who understand what it means to care about themselves will only go into any barbershop where guys know how important looks can be–and there is no place better than our spot for manscaping needs.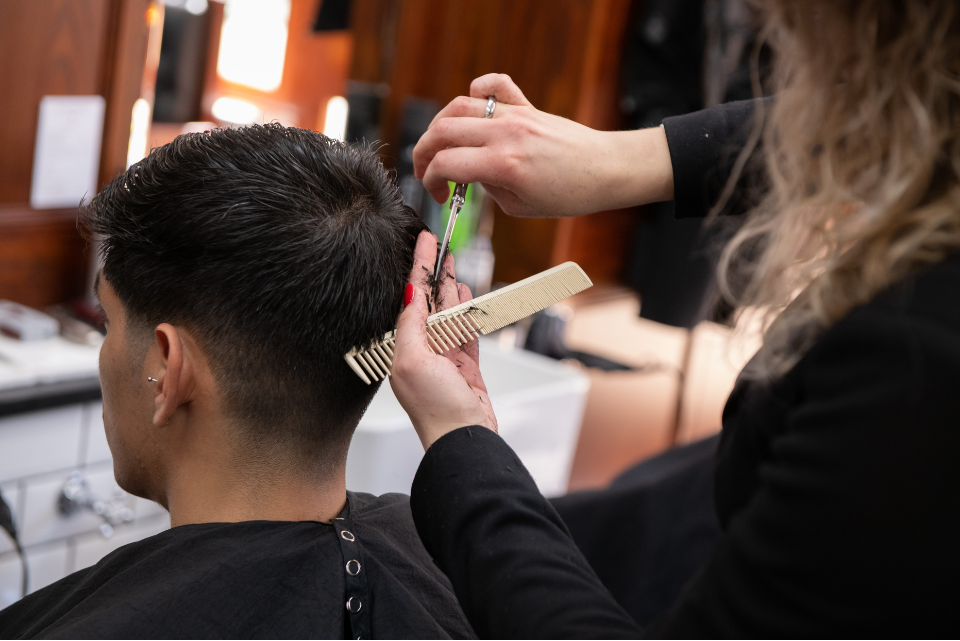 About Pall Mall Barbers Best Barbers Near Rockefeller Plaza
You'll find our barber shop NYC located at the prestigious Rockefeller Plaza Midtown Manhattan. Offering a range of modern barbering services including the finest haircuts, beard trims, shaving, and luxury men's grooming products. We are passionate about providing excellent New York haircuts, first-class service, and developing long-lasting relationships with our clientele by understanding their needs.
Every one of our clients is served by our award-winning team of barbers with their advice and grooming experience bespoke to them – tailored to their personality and lifestyle. Our team of the best barbers in NYC  brings their talent and expertise, marrying it with our unique know-how and training to deliver our signature: traditional service in a modern manner.
Our NYC barbers provide the full range of barbering services from our barber shop NYC – luxury straight edge wet shaves, beard trims, and styling, skin fades and more traditional haircuts and styles suitable for the office.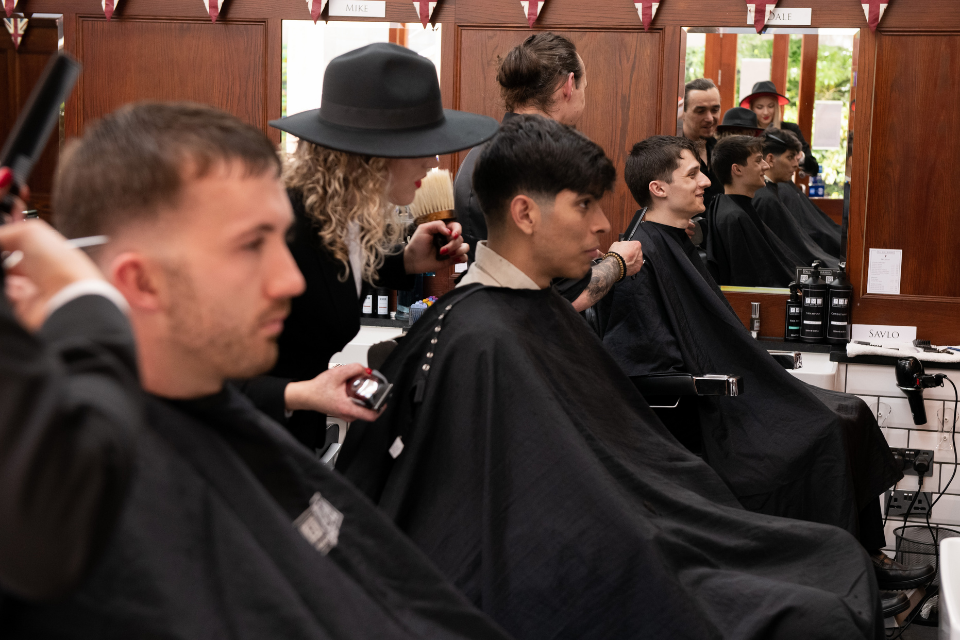 Hair – Men's Haircut Near Rockefeller Plaza
Are you happy with your current hairstyle? Perhaps you're looking to spruce it up and try something new. Visiting our barber shop in NYC will get you a ticket to the hottest seat in town (for haircuts) because you'll have the best barbers near me at your service. Discuss what you desire, take their advice and watch your ideal hairstyle come to life.

Beard Styling – Men's Beard Styling  Near Rockefeller Plaza
Ah! The all-important beard trim and shape. Add character to your face, create definition and bring your personality forward with fantastic facial hair. At our NYC barbers, you can rest with ease knowing that your beard is in good hands. Get sharpened up and look your best! Barber Shop NYC.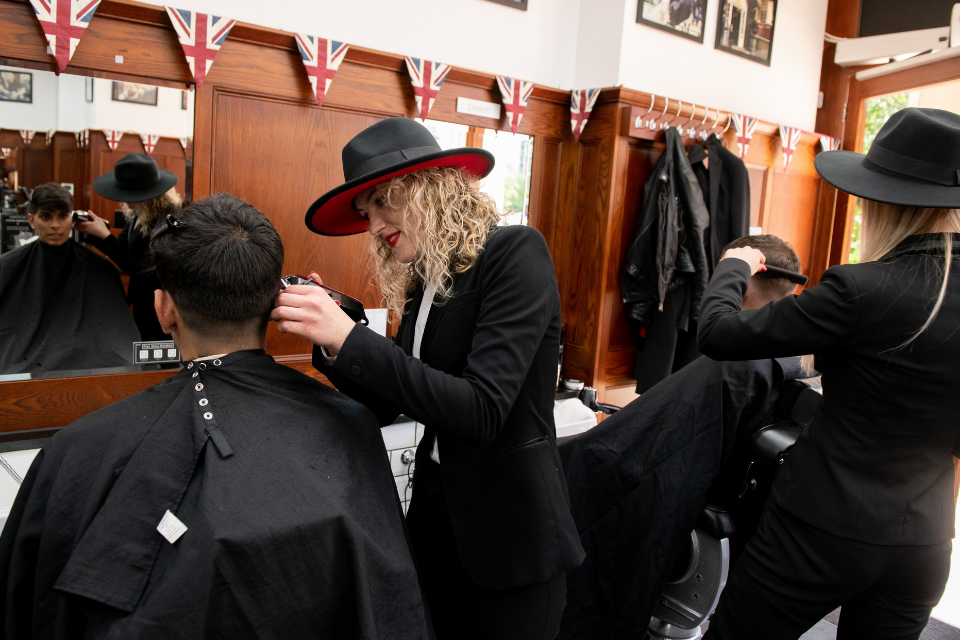 Shaving – Men's Shaving Best Barbers Near Rockefeller Plaza
With so many styling products on the market, it can be hard to choose which one will work for you. That's why our team at Pall Mall Barbers NYC has created a line of specially designed hair care items tailored just for your needs! We have everything from light creams and gels that help define styles all the way through 50's-style pomade – perfect if want slick back or tight curl with extra hold without feeling greasy.
You won't believe how quickly these small changes make such big differences in terms of shine retention time after application; not only does this translate into healthier-looking locks but also helps prevent breakage
A well-groomed look can be maintained with our wide selection of styling products. For those who have thick or thin styles, we've got you covered! Don't forget that a little goes a long way to stay light on the touch when applying these hair oils and hairsprays in order to prevent weighing down your doo riffs for too long (or ever!). Barber Shop NYC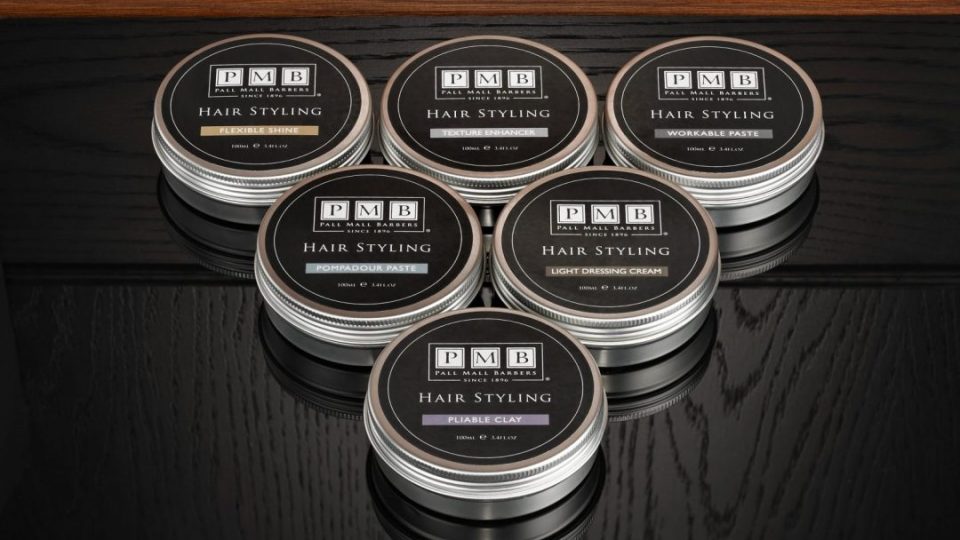 Flexible Shine – Styling Product For Men
Pall Mall Barbers' flexible shine is ideal for creating messy, textured looks that can be reworked throughout the day and easily washed out. Our flexible shine styling product for men creates volume and provides a natural finish for the hair. It works perfectly on the hair of all lengths, helping to keep a strong and slick look, without any stiffness.
Directions: Rub a small amount between the fingers and through damp or dry hair for great definition and a matte finish.
Workable Paste 100ml – Styling Product For Men
Workable Paste is ideal for styling hair at home, helping you to achieve the trendy hairstyles we style on our clients in our London barbershops. Perfect to use on the go, our workable paste helps add a little shine to hair whilst still helping to achieve an immaculate and sleek style.
Directions: Apply a small amount to wet or dry hair and work from the root to the tip, shaping it into the desired style.
Pliable Clay 100ml – Styling Product For Men
Pall Mall Barbers' pliable clay is a versatile clay that gives definition to short textured hair and creates styles that can be reworked throughout the day. It provides hair with a dry matte finish and can be easily washed out at any desired time. Perfect for enhancing texture and adding volume to the hair, our pliable clay is an essential styling tool to keep at home – Open Barber Shop.
Directions: Rub a small amount of the styling product between the fingers and work from root to tip for a strong, matte hold with added texture.
Texture Enhancer 100ml – Styling Product For Men
Pall Mall Barbers' texture enhancer is best used in short hair. It helps both thicken and add texture in just one application, giving the hair a strong yet supple hold with a natural matte finish that can be easily washed out at any desired time. Perfect to use both at home or on the go, our texture enhancer helps to add volume and style to the hair in a matter of seconds.
Directions: Apply a small amount to dried hair to be able to shape and reshape.
Light Dressing Cream 100ml – Styling Product For Men
Pall Mall Barbers' light dressing cream is a pliable moulding cream that gives a natural finish and shine and has a medium hold. Our dressing cream helps to obtain your desired style all day long, whilst still being exceptionally easy to wash out at any chosen time. Perfect for even the shortest of styles, our light dressing cream helps to create your desired style, without any added feeling of stiffness for achieving the perfect  2020 Gentlemen's Haircuts.
Directions: Apply a small amount using the fingers to damp or dry hair, and work from roots to ends for natural shine achieving the perfect  2020 Gentlemen Haircuts.
Pompadour Paste 100ml – Styling Product For Men
Pompadour Paste is a flexible fibre gum that manipulates and separates the hair into your desired style. It helps to give a medium to firm hold, enhancing your natural shine and adding texture to the hair. It can also be easily washed out at any desired time. Perfect for even the shortest of styles, our pompadour paste is great for achieving both a messy and matte finish.
Pomade 100 ml – Styling Product For Men
Our luxurious Pomade was designed specifically for those with thicker hair. With its distinctive and masculine scent, our fragranced oil will help to style hair with a classic and sleek finish. Providing a stronghold and helping to define and control the hair, it can be easily washed out after use. Suitable for all hair types, including short and medium lengths, our pomade oil will help to create both slicked back and side parting styles.
Directions: To apply to use a small amount on damp or dry hair and style it into place
Where to find the best barber shop NYC has to offer
We've got a right to claim our title of being the best, most established hairdressers in the capital because our first shop opened way back in 1896. Since then, we've grown to several locations (even one across the pond!) including our barber shop NYC.
Our modern service is exceptional, extremely highly rated and regularly wins awards. What we care about most is the smile on our customers' faces when they're with us. If you want a hairdresser who can make you happy, make your way to our barber shop NYC to achieve the perfect  2020 Gentlemen Haircuts.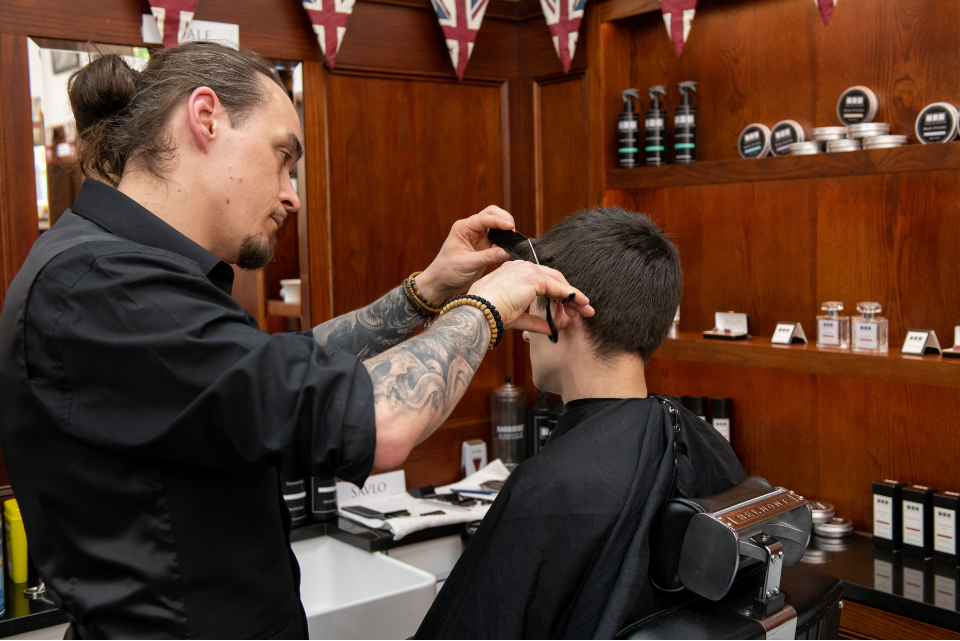 Our premium salon is known as the best barber shop NYC has ever had and if you should find yourself searching for barbers near me or the best barbers NYC, you should know that we exist and we blow all other salons out of the way with our experience, expertise, and establishment.
As a brand, we've been around for nearly 125 years and have spread our trimming talent across the city. We know what we're doing and we welcome you to try the best barber shop NYC has ever known. Most people type the words 'Men's Haircuts near me ' and expect to immediately discover the best barber shop NYC has to offer. Evidently, that's true, since you've landed here and we are undoubtedly the provider of the most exceptional men's haircuts near me, have ever had to achieve the perfect  2020 Gentlemen's Haircuts.
Thankfully, we are here to stay so you guys searching for the best barber shop NYC have somewhere you can rely on and relax. Some years ago, we set out on a mission to create the best barber NYC has ever had.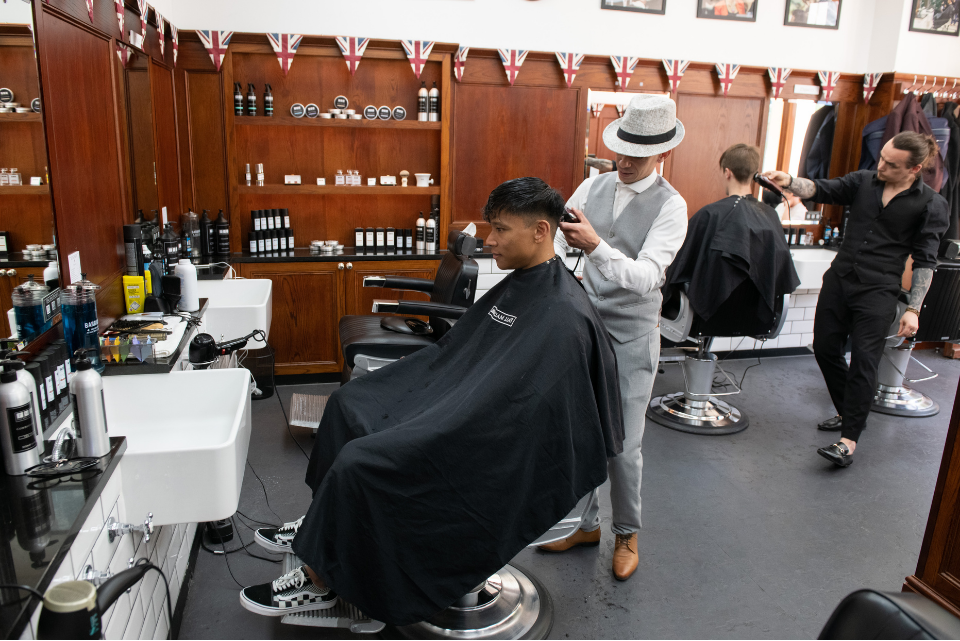 Barber Shop NYC – Grooming Experiences
Having conquered most of the city with our exceptional grooming experiences, we decided to raise the standards of barbering in this district. Crowning ourselves the best barber shop NYC has ever had. In order to see what makes our services the best men's haircuts NYC has to offer, you have to come in and be treated yourself.
Before you do that, you can take a look at what our customers think of us on Google. By searching for us, you'll notice that we have almost 600 reviews and an average ranking of 4.8 out of 5. It's especially pleasing, as a business claiming to be the best barber shop NYC has ever had, to see our statements supported by the people who matter – our customers. When you arrive, you'll be greeted warmly like a member of our family and one striking aspect of our experience will meet you immediately – the scents!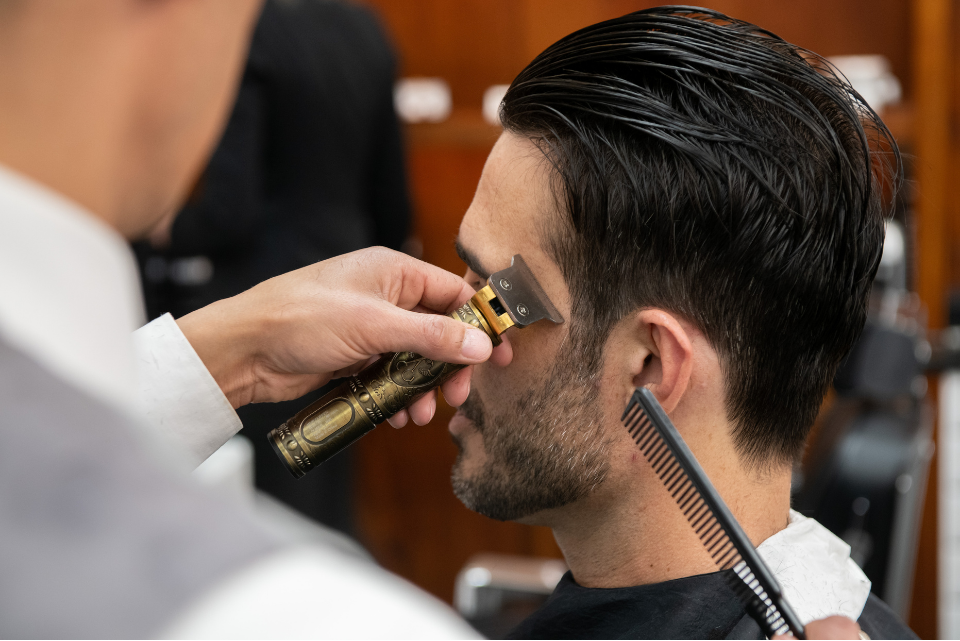 Pall Mall Barbers NYC Aroma
The aroma is rather refined because our products are premium and gorgeously flavoured to create a scintillating experience for everybody in the room. Aside from the ambience and the air, the jovial, friendly atmosphere in our barber shop in NYC is something that our artisan craftsmen and women create through their personalities. Anybody who is part of the team at the best barber NYC has to offer.
Ought to represent the quality of the brand in their charisma and conversation –achieving the perfect  2020 Gentlemen Haircuts. and they certainly do that! Knowing how to navigate the fine line between too much talking and awkward silence is a handy social skill that all our hairdressers possess. Not only are they wonderful at helping you feel at home, but they are also well versed in their role as the architect of your ideal appearance.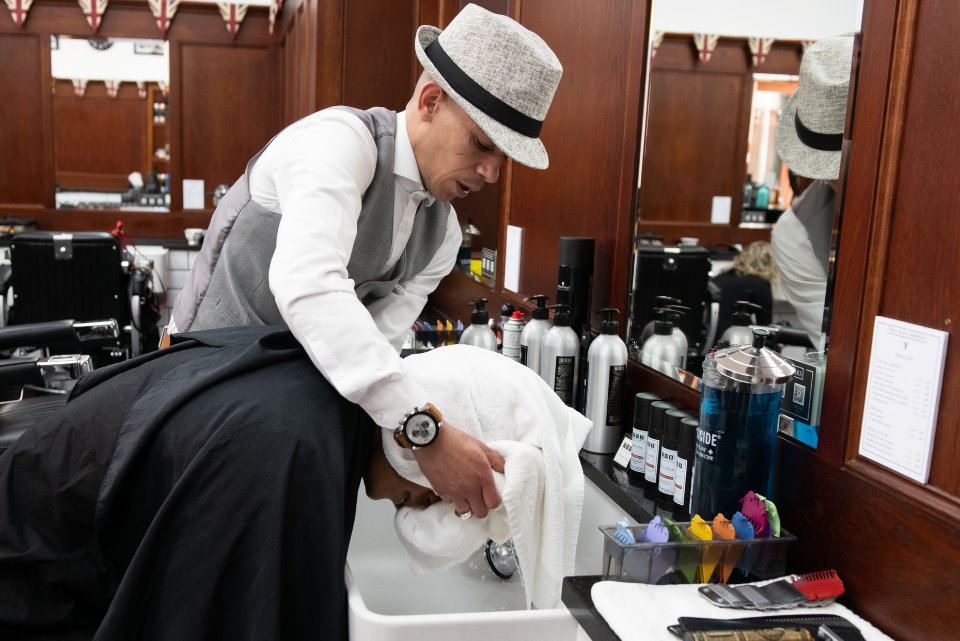 What makes us the best barber NYC has ever had?
One of our best-loved locations is this one and it's one of our favourites too – the grand architecture of the district, the esteemed gentlemen who pass through and the relaxed lifestyle are all a perfect match for us.
Having such a fantastic history means we are constantly working to ensure that our legacy remains intact. We aren't stopping in terms of evolving the way we operate, we will always innovate and try to find new ways to impress and add value to our customers' in-store and after-care experience.
However, there are some traditional elements that are enshrined in our story and are here to stay. One of those things can absolutely be found in our store and it is our classic wet shave. Besides the products becoming more premium and the razors being superior quality, the way in which we deliver this treatment is with tradition in mind.
Everything we do at our salon must provide you, the customer, with the best experience – that's why we take time with our services and ensure you're enjoying it.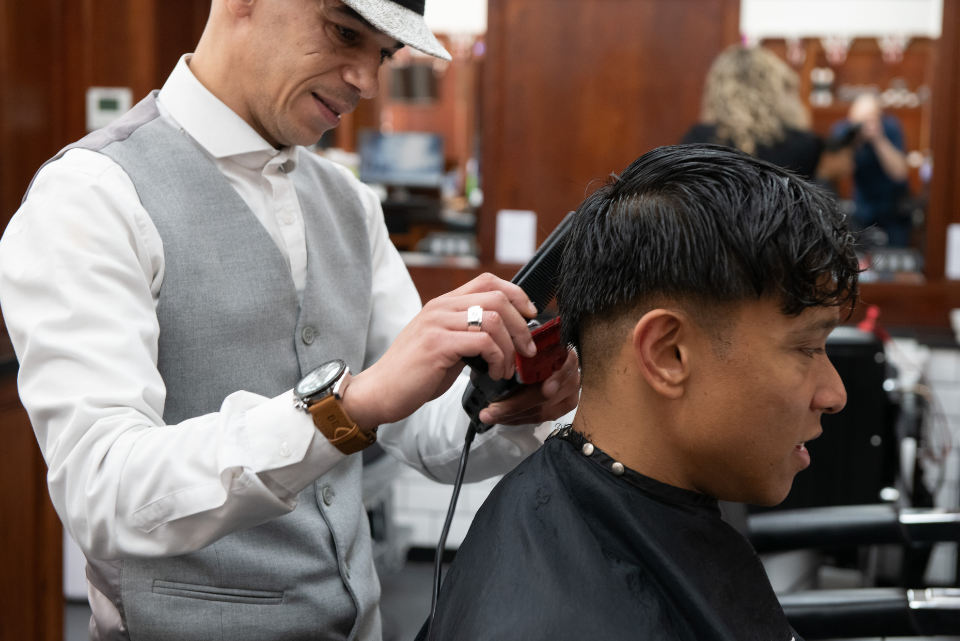 Hair
Whether you're looking for something new or just want a better version of your 'usual', getting your hair cut and styled is a big deal. It's going to have an impact on how you feel, how you're perceived and it's something we take seriously.
Hair is our art and craft, it's our science and business too – this means when you enter our place to experience the best men's haircut NYC has to offer, you can rest assured that you're coming into a place where your head is in safe, experienced hands. We'll discuss your desired look, offer some advice and then execute the perfect cut and style!

Beard Styling
Facial hair needs styling too! Getting your beard trimmed, shaped and sharpened is a great way to add definition and character to your appearance. With steady, experienced hands and a keen eye for style, our store is staffed with experts who can design your beard like an artist creating a masterpiece.
As mentioned, the classic wet shave is one of our star services because we've been doing it for so long and refined it to perfection. Nothing beats the feel of our luxurious foam and the refreshing swipe of our sharpened blades, as they groom your face to perfection. You'll feel rejuvenated, re-energised and ready to roll!

Do you need a haircut? A shave? Do you want to find the best barber near me NYC has to offer? Look no further than this blog post. From time-tested, traditional barbershops to trendy new shops, we've compiled a list of some of our favourite places. We'll help match your hair type with the right barber shop NYC for your needs and offer tips on how to get an appointment or walk in at any one of these great establishments. You won't regret reading through what we have in store for you!
Pall Mall Barbers NYC – To Look and Feel Your Best!
Are you ready to rock out to your favourite band at the TODAY Citi Concert Series? The energy and excitement of live music are unmatched but don't forget to take care of yourself once the show is over. Head on over to Pall Mall Barbers NYC for a relaxing and refreshing experience. Our expert barbers will give you a new and polished look, perfect for your next concert outing. Take some time to pamper yourself and unwind after an amazing performance. Don't miss out on the opportunity to look and feel your best!

Nearest Subway Stations
Nearest Train Stations
Book an appointment with our awesome team at Midtown, this can be done via our Website Booking System or by using the free PMB app (available on iOS and Android). Alternatively, call the shop and speak to one of our friendly team members, who will be delighted to make a booking for you.
The service menu provides a full description of what to expect when you visit Pall Mall Barbers Midtown.
Please bring your face covering with you for your appointment. We want to save the NHS. Please find information on our services and visiting restrictions in our COVID-19 section here. 
Barber | Barber Shop New York | Barber Shop | Barbers Shop | Barber Shops Near Me | New York Barber Shop Near Me | Barber Shop NYC | Men's Barber Shop | Mens Barber Shop Near Me | Barber Near Me | Best Barbers in NYC | Best Barbers NYC | Master Barbers NYC | NYC Barbers | Midtown Barbers | New York Barbers | Barbers in Manhattan | Barbers Manhattan | Best Barbers in Manhattan | Barbers in Rochester NYC | Astoria Barbers | Barbers Astoria | NY Barbers | Best Barber in Brooklyn | Brooklyn Barbers | Pall Mall Barbers NYC | Men's Haircut