We all know that a great haircut can make a world of difference –best London barber. It makes us feel satisfied, confident, and, more importantly, happy! For this reason, you must pick a barber who doesn't make your hair look like a disaster.
There's a drastic difference between having a regular London barber for all your haircut needs and visiting any random barbershop whenever you need a haircut.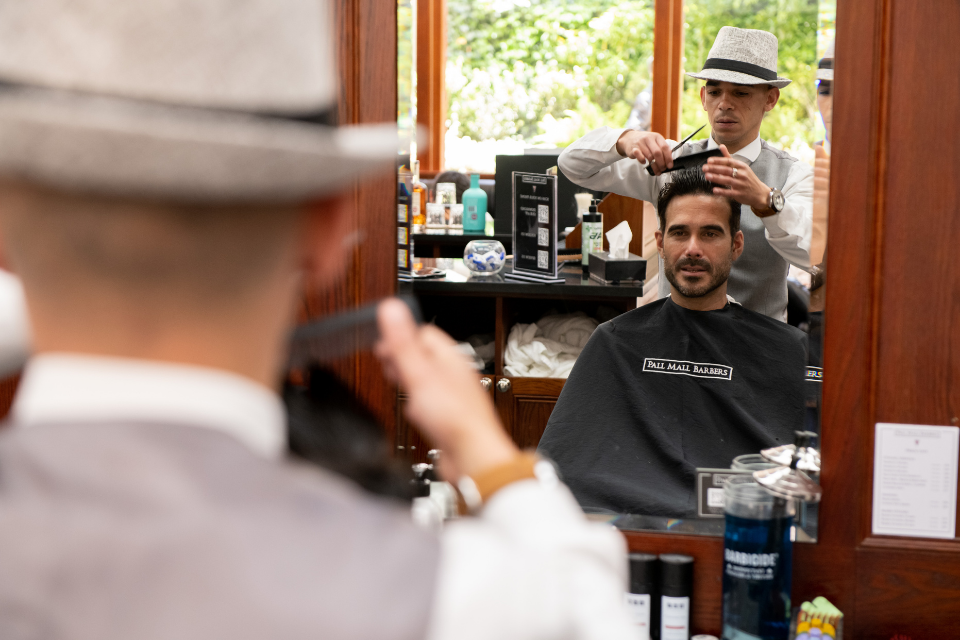 Here's how to select the right barber for all your haircuts!
Pick a barbershop and not a saloon

While unisex saloons seem to be the trend, a Soho barbershop is undeniably the best option for men. Soho Barbershops are specifically focused on providing grooming services for men ranging from haircuts, beard trims, and wet shaves, to other related services. They have a good understanding and knowledge of male-specific hairstyles and how to address issues that are related to men's grooming routines (the infamous beard itch for example!).
A men's saloon is another good option as they also specialize in men's haircuts. However, a barbershop offers more than just a haircut. Soho Barbershops are spaces where men can relax, have a chat with fellow gentlemen, and dedicate time to pampering themselves. At Pall Mall Barbers Soho we strive to offer a cosy space for our clients to relax and feel at ease.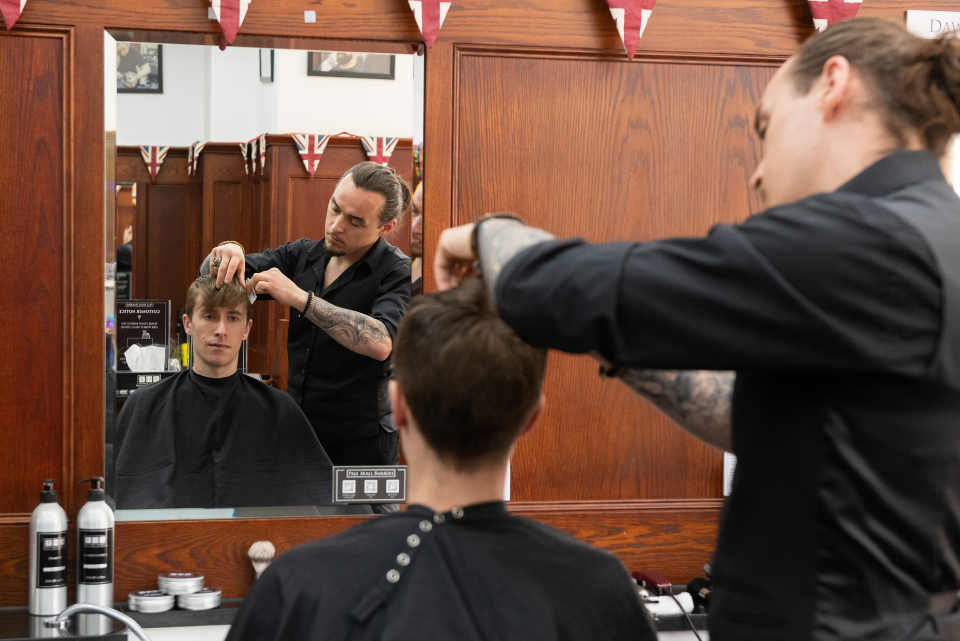 Check for the expertise

If you need a barber who would be skilled in offering the exact haircut you need, experience is key! Ideally, select a barber who is in the haircutting industry for a significant number of years. It's one of the reasons why clients prefer Pall Mall Barbers as their best barbershop in London and NYC. We have decades of expertise offering men's grooming services and our team of Victoria barbers have undergone extensive training to offer nothing but the best service for our clients. More experience also means that your best Victoria barber is aware of the latest trends in the haircutting industry. They would be able to understand your requirements well, examine your hair type, and provide the ideal haircut. More importantly, an experienced barber like Pall Mall Barbers knows how to customize the hairstyle to suit your face. Now, that is very important.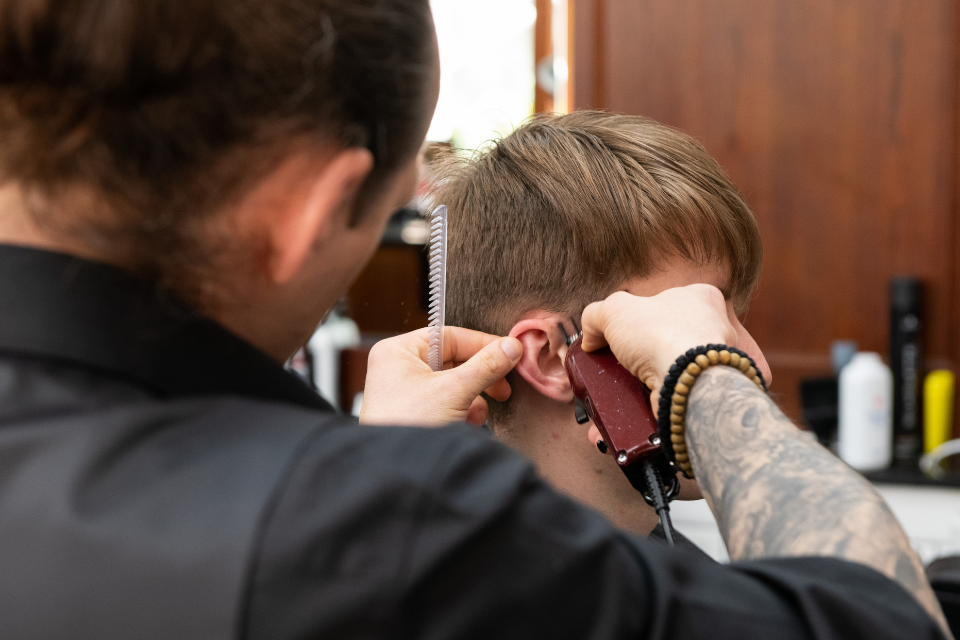 Ask around or check for reviews

Do you know how your research a product or service online to find out whether it's good, durable, or worth the price? Do you know how you ask your friends or family for recommendations about different products? It's best to use a similar approach to choose the best barber for you! Most of the barbershops have websites or pages on social media. Look for past customer reviews to understand the professionalism, expertise, ambience, and quality of services. If you visit our Pall Mall Barbers website, you will note that there's a page dedicated to reviews left by our past customers. Alternatively, there are also Google reviews that speak volumes of our amazing and high-quality service. This is because we ensure all our clients walk out of our stores with a great haircut that matches their expectations. We know the importance of it! We treat every customer like the best client and that's what your best barber should offer.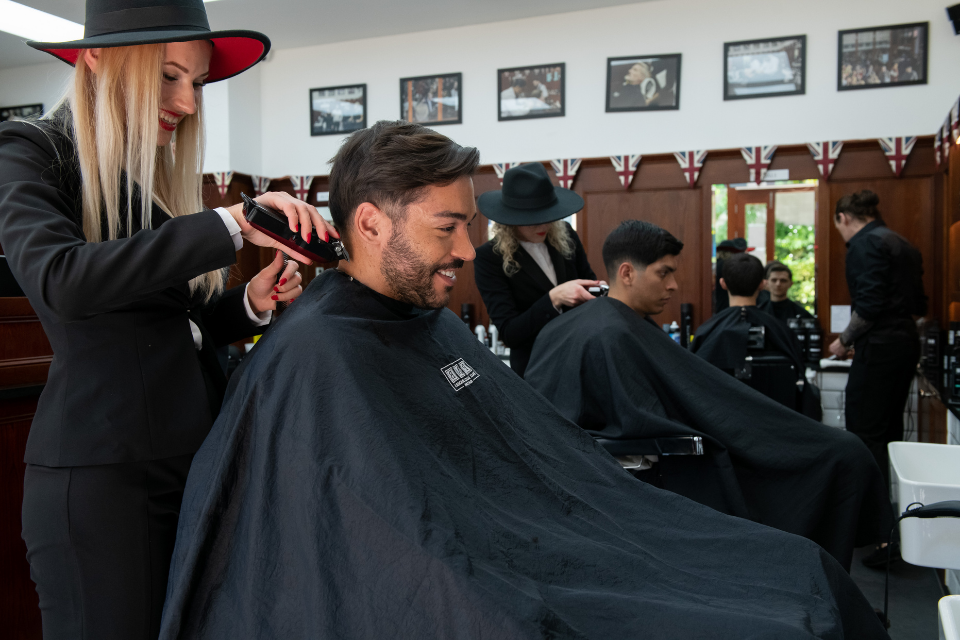 The interior of the barbershop

You might wonder what the interior has to do with choosing the best barber. The effort barbershops invest in maintaining an attractive, comfortable, and clean environment tells a lot about how much they value the customers. Let's be honest. As customers, we always look for the best bang for the buck. In addition to a good haircut, you are also entitled to feel great in the barbershop. So, pay attention to cleanliness, hygiene, and décor. At Pall Mall Barbers, we believe that visiting a barber shouldn't be a dreadful ordeal. It's the reason why we walk an extra mile to please our customers. As you enter, you will be greeted by a pleasant atmosphere. You can sit and relax in one of our comfy couches and have a chat, if you wish, with others. With wood-panelled floors, swivel chairs, lean-in sinks, and everything in between, we aim to bring you a traditional barbershop experience. More importantly, we focus on keeping all our barbershops spotlessly clean!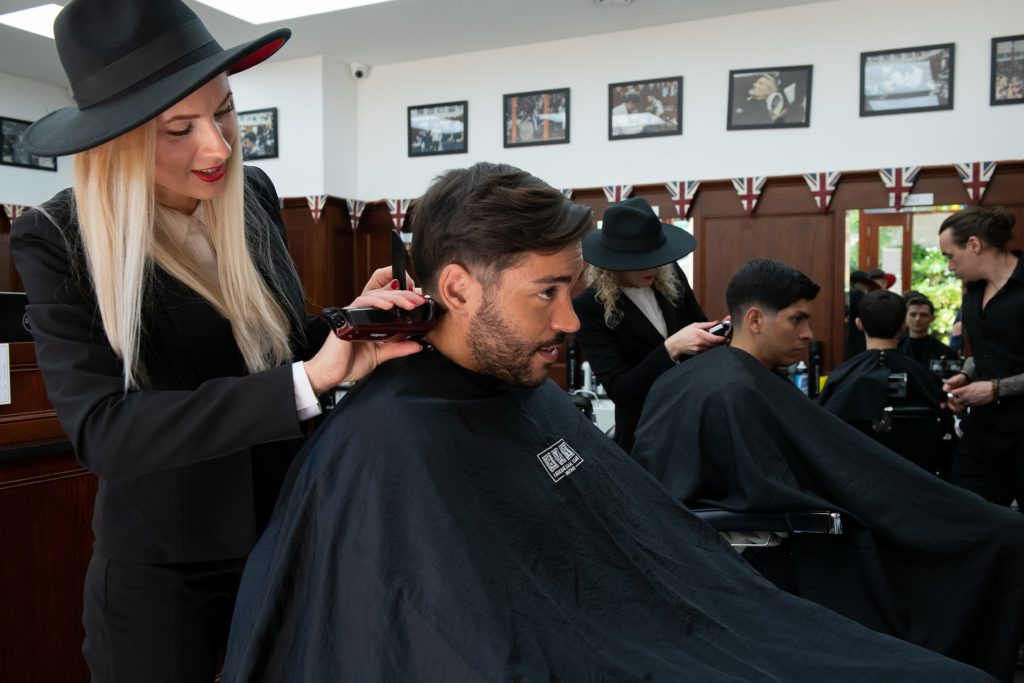 The confidence and vibe of the barbers

Yes. It's important that a barber you choose has an attractive and confident personality. In order to tend to clients, the best barbers should appear well-groomed themselves. When you see a Notting Hill barber who has a great haircut or maintains a neat appearance, it builds a sense of confidence in you. You believe that he/she will do a fabulous job in providing a haircut. Your best Notting Hill barber should be communicative to understand your requirements and provide their recommendations. It makes clients feel comfortable to open up.

At Pall Mall Barbers, we have a team of energetic barbers who walk the talk in every way! They are style icons themselves and you will notice it at your first glance. Our team of barbers take their grooming routine seriously and help our clients adopt a great routine too. They give you advice they follow themselves – speak of credibility! It's not just the way they dress or maintain their hairstyle, it's also how well they communicate with clients to make them feel at ease. Drop a visit and experience the exceptional treatment our barbers provide you.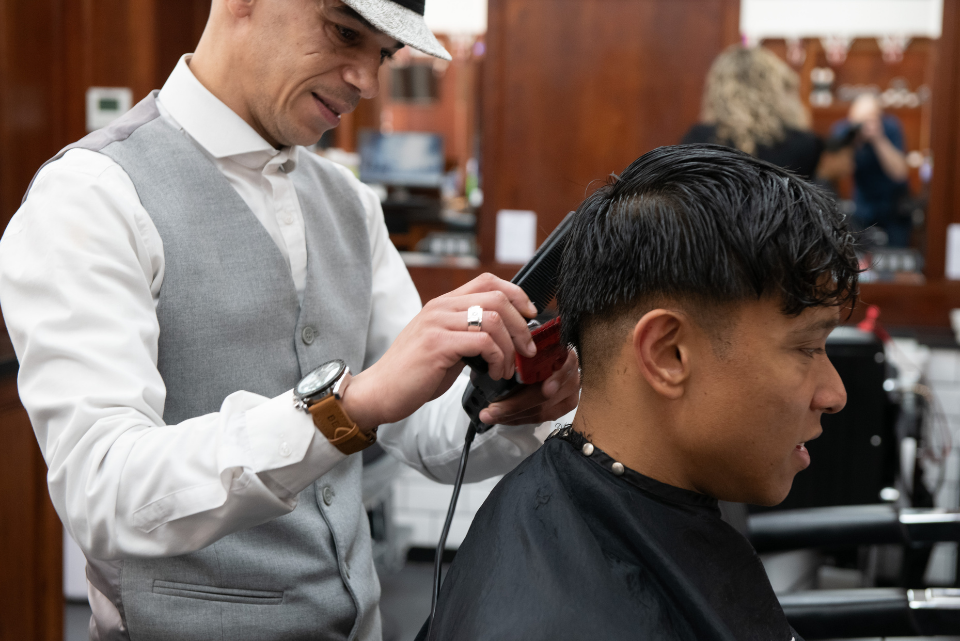 The range of services offered by the barber

Another important factor is that your Victoria barber should be skilled in offering a range of services. Essentially, you should be able to get a complete grooming experience from your best Soho barber. So, before you select a Victoria barber, take a look at the list of services offered to clients. For example, haircuts, beard stylings/trims, wet shaves, scalp massages are some of the services offered by experienced barbershops.
At Pall Mall Barbers, we have services catering to all types of clients. Do you need a quick clippers-only trim before you attend an important event? We have got you covered. Do you need a complete wellbeing session that makes you feel relaxed and confident? We have got you covered as well! Our extensive list of barbering services can be enjoyed individually or together. We are experts in providing all kinds of haircuts, fades, beard trims, and luxury wet shaves. We also offer friction massages and wet towel treatments to help you de-stress and unwind!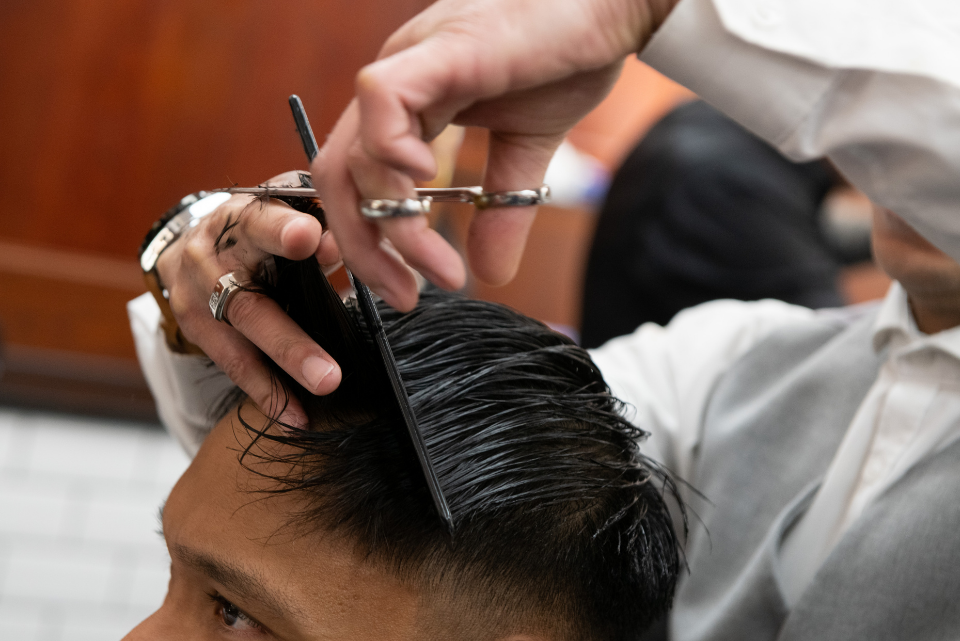 Drop-in for a haircut

You heard it right. If you want to choose the best barber who understands your requirements and provides a service at par with it, you need to test it out. The bait is your hair. Jokes aside, it's the only way that you know for sure that you have picked the right barber in London. Besides, nothing can go drastically wrong if you have checked the reviews, expertise, and every other factor and confirms that the barber you selected is in fact, an expert NYC barber!
So, once you figure out that the barber fits all your other requirements mentioned above, make an appointment and get a haircut. We can guarantee you will love your haircutting experience at Pall Mall Barbers. Our team of barbers speak with clients first to understand their needs first. The consultation is the foundation of the trust you place in the barber. Rest assured that your visit will be just the first of many to come because we will ensure that you walk away with a great haircut.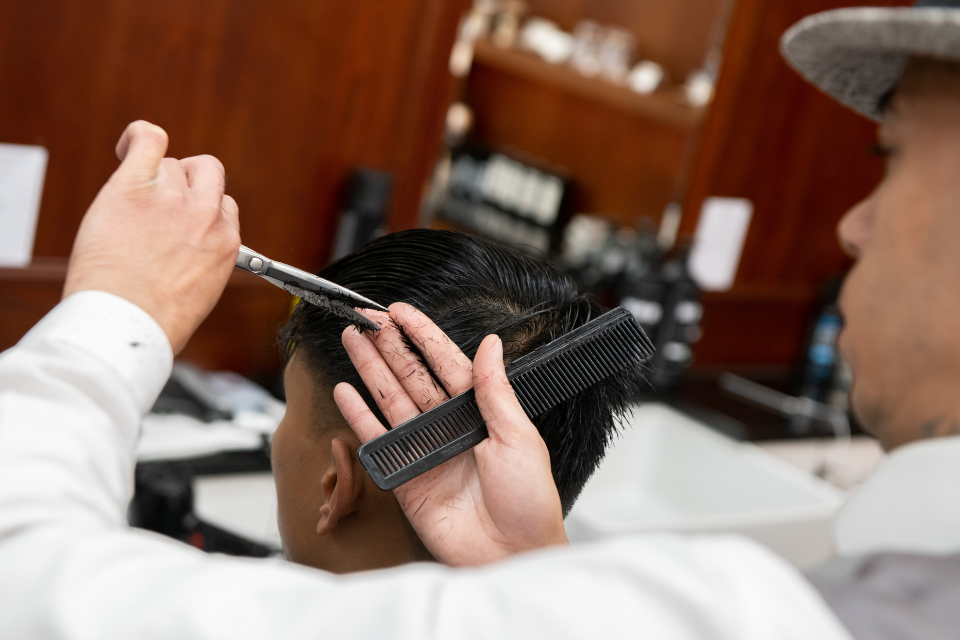 Best Haircut Around Town
Getting a professional men's haircut can be relaxing and enjoyable, but it also comes with many benefits. When you book an appointment at Pall Mall Barbers, not only are you getting the best hair cut around town – you're also making sure that your hair grows back healthier and stronger. Finally, our professionals will make sure to ask if there's anything else they can do for you before sending you on your way!

Pall Mall Barbers Products For Men
On top of that, we know how important it is to keep yourself looking groomed all year round. That is why we produce a vast range of luxury men grooming products inspired by our client's needs and lifestyles. It reveals a character with independence and determination for the city gentlemen who chooses his destiny. The product range is used by our barbers in-store and can be purchased. Therefore, you can recreate that unique haircut with ease. With a little friendly advice from one of our highly skilled team of Notting Hill barbers.
Our barbers near Notting Hill are known as the best barbers near Notting Hill. Our reviews, reputation, and results speak for themselves. The team of expertly trained and well-experienced barbers near Notting Hill are on hand to serve you with the barber services.
Hair Styling Products for Men
There are so many hair styling products for men on the market. How do you know which one to use?
The best way is to ask an expert like one of the barbers at our very own Pall Mall Barbers shops in Notting Hill London. With their collective experience of cutting and styling men's hair, they'll know exactly which hair styling product to use to get the look you want.
One thing we often find is that men like to stick to what they know. Whether that's the haircut, they've sported for years or the products they've been using. Have a chat with your barber next time you're in, and you'll be surprised to learn that you could get a better result or finish your hair with something other than the hairstyling product you've relied on for so long.
Range of Hairs Styling Products
Our range of hair styling products for men has been developed using the finest ingredients that work and smell great over many years. And we've tried and tested them with the people that matter. Our customers, to make sure that they do what they say on the tin.
Whether you want a smooth, slicked-back look, like that of those Mad Men Don Draper and Peter Campbell. Or maybe you prefer a more rugged, casual and messy style like Prince Harry likes to sport. Then we'll have just the right hair styling products for you.
Your barber will advise you and show you how to use the product properly. We always suggest that you use a little bit first, warm it between your hands and then apply it. We've even created a load of videos to give you advice on using them if you can't call into our barbershops. Why not head over to the Pall Mall Barbers YouTube Channel and have a look.
Check out the full range of hair styling products for men, watch a few of the videos and then go ahead and order them online too. What could be easier?